Click on the pictures below to read more about each trail stop location.
The Azalea Trail home and garden tour locations for 2014 are:
River Oaks Garden Club Forum of Civics
Building & Gardens
2503 Westheimer Road
Rienzi
1406 Kirby Drive

4016 Inverness Drive

6102 Crab Orchard Road
2239 Troon Road
Bayou Bend
2940 Lazy Lane or
6003 Memorial Drive

5221 Pine Forest Road
About the Azalea
Azalea is the name given to the various spectacular flowering shrubs (genus Rhododendron) of the Heath family that are in full bloom each spring in Houston, Texas. These showy flowers flourish at seven Houston locations in varying shades of pink, purple, white, red, and yellow and are a magnificent sight to behold.
In 1927, the River Oaks Garden Club was organized by 27 residents of the new River Oaks area. It was not until 1935 that they held the first Garden Pilgrimage as it was called then. Learn more (PDF).
Ticket Information
DATES

March 7, 8, 9, 2014
Friday thru Sunday

HOURS

11 a.m. to 5 p.m.

TICKETS

Seven Admissions……………………
(Bayou Bend, Rienzi, 4 Private Residences)
Admission to the Forum of Civics if Free

$20.00

Sales before March 1………………..

$15.00

Single Site Admission………………..
(Available at each entrance)

$5.00
TICKET LOCATIONS
River Oaks Garden Club Forum of Civics
2503 Westheimer Road
Houston, Texas 77098
713.523.2483
Another Place in Time
The Arbor Gate – Tomball, TX
Bayou Bend Collection and Gardens  – Lora Jean Kilroy Visitor &
Education Center and the Cottage
Bering's
Buchanan's Native Plants
Buffalo Hardware Company
Condon Gardens Nursery & Patio Shop
Cornelius Nurseries
Elaine Turner – CityCentre location
The Empty Vase of Houston
Enchanted Forest – Richmond, TX
Enchanted Gardens – Richmond, TX
Houston Arboretum & Nature Center
Indulge Décor
Leisure Learning Unlimited
Leonard Rutan
The Mercer Arboretum and Botanic Gardens
The Museum of Fine Arts, Houston
Randalls – all Houston area locations
Rice Epicurean Market – Fountain View
River Oaks Garden Club Forum of Civics
River Oaks Plant House
Tanglewood Gifts and Stationery
Thompson + Hanson
Village Flowery
Wabash Antiques & Feed
Wheelchair access is only available at Forum of Civics, Bayou Bend Lazy Lane entrance and Rienzi, and is NOT available at private homes and gardens.
Photos can be taken outside only. No interior photos or tripods allowed.
Tickets can be purchased at all Trail entrances.
No strollers, food, or drinks are allowed in Azalea Trail properties.
Smoking is prohibited at all locations.
Tickets are non-refundable
Restrooms are located at Forum of Civics ,
Bayou Bend Gardens and Rienzi.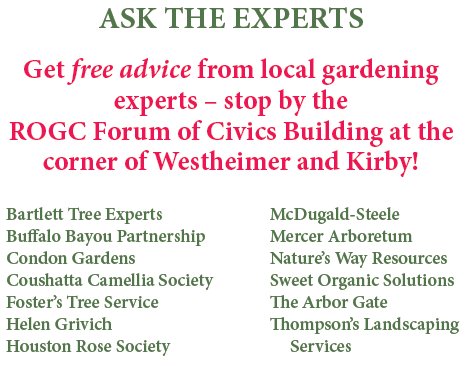 About River Oaks Garden Club
River Oaks Garden Club is a member of The Garden Club of America and was founded in 1927. The club has made many contributions to the Houston community in the areas of conservation, horticulture, education, and civic beautification. Proceeds from The Azalea Trail support these ongoing projects:
• Maintenance of the River Oaks Garden Club Forum of Civics Building and Gardens (the gardens are open to the public).
• Maintenance of the 14-acre gardens of Bayou bend, the former estate of Miss Ima Hogg and now the Bayou Bend Collection and Gardens, The Museum of Fine Arts, Houston.
• Continuation of the Bayou Bend Gardens Endowment, a charitable trust for the perpetual maintenance of the gardens. The endowment is also supported by public contributions.
• Hosting of the annual Sadie Gwin Blackburn Environmental Seminar, which is open to the public (admission is free).
• Publication of A Garden Book for Houston and the Texas Gulf Coast.
In 2011, the River Oaks Garden Club made contributions to the following: Buffalo Bayou Partnership, Camp for All, Student Conservation Association, Peckerwood Garden, Quentin Mease Hospital, The Harris School, Tanglewood Park, River Oaks Park.